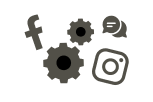 How to Manage Brand's Social Media Account like Facebook & Instagram
Do you know where to reach your Target Audience?
To connect and engage with your potential customers, you have to stay close to them. As data collected by 7 DataReportal, 88% of Malaysians these days spend the majority of their time on social media platforms. The breakdown of active users 8 according to gender for respective platforms like Instagram & Facebook are as below:
Now that you have sorted out where to reach your targeted audience, then what contents help to attract your intended audiences and help engage with them? 9 48% of shoppers are reported to have checked out on brands' credibility through social media platforms like either Facebook or Instagram and another 48% of shoppers reported their buying decision is based on how brands interacted with customers over social media platforms. Safely to say, contents help to build long term relationships with audiences and with an ultimate goal of  increasing business's revenue.
So, it's crucial to grow your Brand Awareness today through Social Media Platforms! It helps to spread the word about your products and achieve your business goals, killing two birds with one stone. Benefits that brands get from having strong presence on social media platforms:
Connect with the Customers
Increase your Brand Awareness
Boost your Leads and Sales
Building Your Brand that Advocates on Social Media
Social media is a powerful tool for online marketing. 10 In fact, 73.3% of people purchase items or services based on what they see on social media. By constantly delivering meaningful and authentic contents to your target audiences helps brands or companies to form social communities that eventually will become your Strongest Brand Advocates.
How We Create Contents that Your Audience Loves?
Specifically, compelling content that drives more value for readers and higher conversion rates for brands.
Graphics Design
We harness the Power of Visual Communication with rich and vibrant content that impacts communities.
Social Media Copywriting
We explore different types of executions on Social Media Content to keep brands' content fun, engaging, and interactive. So it cuts through the noise and builds lasting relationships with your Target Audience.
Measure, Analyze and Optimize
We measure, analyze, and optimize marketing and networking strategies. Constantly evaluate on our objectives and tactics to reach our goals.
Meet Your Dedicated Content
Team Today
7
Facebook & Instagram users in Malaysia, NapoleonCat, https://napoleoncat.com/stats/facebook-users-in-malaysia/2020/03/, (accessed 24 August 2021).
8
DIGITAL 2021: MALAYSIA, Data Reportal, https://datareportal.com/reports/digital-2021-malaysia, (accessed 24 August 2021).
9
60 Second Social Media Study, Fabric Digital, https://www.linkedin.com/pulse/why-50-online-shoppers-check-your-social-media-before-arthur-wilson, (accessed 24 August 2021).
10
The Sprout Social Index, Edition VIII: Turned Off, Sprout Social, https://sproutsocial.com/insights/data/q3-2016/, (accessed 24 August 2021).